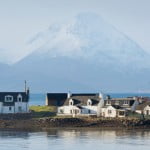 Scottish Highland Trails is a family run business established in 1998 which specialises in tailor made tours of Scotland.
I am truly passionate about Scotland and I think (although I might be biased!) that it is the best small country in the world!  I am a qualified, professional guide and a member of the Scottish Tourist Guides Association, and will provide the best advice as well as a first class, personal service throughout your stay in Scotland.
You can learn more about the Scottish Tourist Guides Association here, or follow this link to see my profile.
A tailor made tour means that you have the freedom to decide what's in, and what's out, of your holiday package. With an eye on budget, I will take your hopes, desires, personal interests – and yes, dislikes too – and build your trip around them to create your ideal tour itinerary.