Where to Stay in Scotland

Jill McKean
1 min

read
2311

The options for your accommodation in Scotland are vast!  We are delighted to recommend all types of accommodation, from quaint B&Bs to luxury hotels and everything in between.
Indeed, we have arranged a tour in which a couple stayed a night in the most expensive and exclusive hotel in Scotland followed by the next night in a homely farmhouse bed and breakfast.  We have a great relationship with accommodation providers throughout Scotland and we aim to hand pick the best!
We will always ensure that your accommodation has been inspected by the national tourism body, Visit Scotland, and is known to us personally for its quality and value.  Fancy staying somewhere different?  Be it a haunted Scottish castle, a lighthouse, a historic building or a farmhouse, let us know what you've always dreamed of and we can make it happen!  We also appreciate guests usually prefer to steer clear of big international chain hotels  and would rather stay somewhere uniquely Scottish, so we will always try to recommend interesting, great quality, independently owned accommodation.
If food is important to you we can recommend hotels with great dining rooms, restaurants which make the best use of fantastic Scottish produce and award winning kitchens, some with Michelin stars.  And it shouldn't be too much trouble to point you in the right direction of plenty of good pubs and whisky bars…!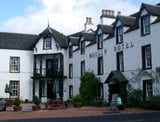 Related posts