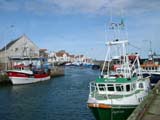 Food & Drink

Jill McKean
4 min

read
3182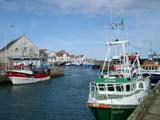 Scottish produce is world class: excellent grass fed Aberdeen-Angus beef stands comparison with beef anywhere, venison,  lamb, fish and seafood (especially the shellfish in the Northwest and the Islands), cheeses and dairy produce, soft fruits such as raspberries and strawberries…the list goes on.
Cereals such as oats and barley are also an important part of Scottish cuisine.  Chefs across Scotland and indeed further afield are making best use of these fantastic ingredients to create wonderful new dishes as well as traditional classics.  Here at Scottish Highland Trails we will be delighted to recommend great places to eat throughout Scotland – everything from traditional tearooms serving great scones to the best fish and chip shops, to the best fine dining restaurants – please ask at the planning stages of your tour and we will be sure to serve up some great dining options!
Traditional Scottish fare includes the following:
Haggis: No list of Scottish food stuffs would be complete without this one.  So great Rabbie Burns wrote a poem about it, the " chieftain o' the puddin' race" has to be top of your list of things to try whilst on holiday in Scotland.  It is made from minced sheep's meat (including tripe and offal…bear with us, it's worth it!), oatmeal and spices.  Its nearest relation is probably blood sausage or black pudding.  You can even get vegetarian versions these days so you've no excuse not to try it!
Cullen Skink: An appetizer you really have to try!  It has come to our attention that many of our Canadian/American guests don't try Cullen Skink when they see it on a menu in case an aromatic skunk might somehow be a constituent part of the recipe.  Please don't worry!  Cullen is a small fishing port in the northeast of Scotland and Skink is an old Scottish word for soup…there are your clues: if you like clam chowder, this is the Scottish version but, instead of clams, it's based on smoked haddock.  It's a lovely fish soup which you'll find all over the country.
Arbroath Smokie: Sticking with fish, Arbroath smokies are a type of wood smoked haddock made using traditional methods.  Originated in the area around Arbroathon the east coast of Scotland. Finnan haddie is a type of cold smoked haddock.
Skirlie: made of oatmeal, onions and seasoning.  Commonly used in white pudding or as a stuffing for other meats such as chicken or game birds.
Clapshot: a vegetable side dish which is a mixture of mashed swede/turnip and potatoes with butter, seasoning and chives or onions.
Rumbledethumps: another side dish, this time a mix of potatoes, cabbage and onion.  Similar to the Irish colcannon.
Selkirk Bannock: a fruit bread containing sultanas.  Delicious with butter and a cup of tea!  To have a go at cooking a Selkirk Bannock for yourself, click here for the recipe.
Cranachan: This is a very traditional Scottish dessert.  The main ingredients are oatmeal, double cream, honey, raspberries, and a little flavour of whisky.
Tablet: a bit like a hard, grainy version of fudge.  Very sweet and made with condensed milk, sugar and butter.  If you ever find yourself in Inveraray be sure to go to the wee shop by the pier for tablet ice cream – a taste sensation!
Drink
Whisky, Scotland's national drink, is covered elsewhere on this site so let's concentrate on perhaps a lesser known Scottish alcoholic drink – beer! Scotland is home to a number of flourishing small scale breweries including Broughton Ales, Harviestoun Brewery and Traquair House, to name but a few.
The quality of our water is a main component in both the brewing process and in the production of whisky, and you will find plenty of good quality Scottish mineral water on sale here in Scotland.  And how could we forget Scotland's other national drink, Irn Bru?!  Extremely popular in Scotland and practically nowhere else, this is the soft drink of choice of our nation.  Known affectionately as "ginger", this orange, sugary concoction is another thing for you to try when you are here (although once may possibly be enough!).
Related posts